If you frequently travel with a fur baby on board, you'll no doubt know the struggles of putting car and canine together. Four-wheeled contraptions were not designed with four-legged friends in mind. Whether your dog treats the plush passenger compartment as a chew toy or makes their mark with muddy pawprints, you often wish there was a convenient, catch-all-dirt solution. Well, what if we told you that there is?
Dog car seat covers are the solution to all your disruptive backseat dilemmas. Not only do they get all the dirt on your dog, but they keep car interiors intact. There are many different dog car seat cover options available. Which one will you choose?
Dog hammocks
These may sound like puppy dog's bedtime accessories—and your pooch is welcome to fall asleep in one—but they're so-called because they're actually set up and shaped like a hammock. They come equipped with handles that hang from the front and back seat headrests. This car seat cover does not hang in the air like a regular hammock, but it does rest lightly atop the passenger seats. Its shape and set-up provide a barrier between your dog and the front seat, as well as the footwell. Your little angel will abandon their devilish behaviour by staying put in the back seat throughout the entire trip!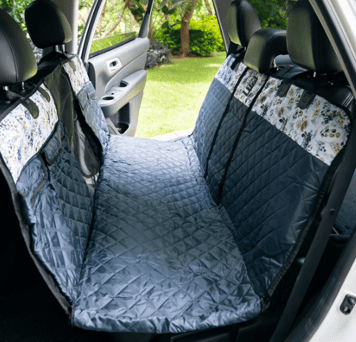 Dog hammocks: they hang but they also don't. Image: Stylish Hound
Bench seat covers
Bench seat covers are like dog hammocks but without the barrier. They don't necessarily hang, either. If you're using a bench seat cover, the objective is to protect the seat. They may attach in a different way, and they may cling to the whole seat like a protective skin. Pros of a bench-style cover? They protect the whole seat and they don't block off the entire backseat section. Cons? Your dog may go walkabout with one. However, if your dog learnt their Sit command commendably enough, this shouldn't be a problem. Your back seat will be completely protected from pawprints, dog hair, and general canine wear and tear. (Please note most bench seat covers are 140 centimetres wide. If your bench exceeds this width, you may want to look into truck bench seat covers.)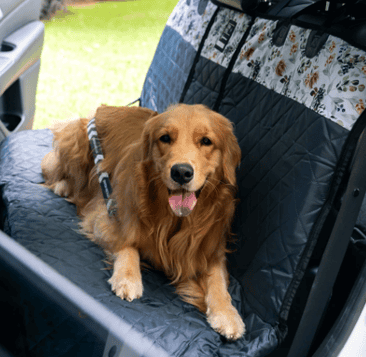 Some sog car seat covers are versatile enough to take bench or hammock forms, depending on your preference.
Front seat covers
As the name suggests, front seat covers are for doggies riding shotgun. You can use them in any car, truck, or SUV. These seat covers also fit over every last inch of a bucket seat—seats you'd find in the middle row of an SUV or minivan. If you want your single seat—be it front or bucket—to be protected, bottom to back, then a front seat cover may be a great choice. (Side note: If your front seat has airbags, we strongly advise against sitting your dog in the front seat.)
Car door guards
Though more durable than car seats, car doors also aren't exempt from canine clutches. In fact, dogs love to look out the window, and they may try to bolster themselves up. You can expect the inevitable scratches or pawprints they leave in their wake.
So, how do we counteract this? With car door guards. These covers extend from your car window to your door panel, providing an extra layer of waterproof protection. Think of these as extensions to your main dog seat cover. Some dog hammocks come with these built in.
Boot liners
Before you ask: these are not shoe inner soles. Some dogs like to ride in the boot of station wagons or SUVs. Though the car boot needn't be as pristine as the seating interior, a boot liner still keeps the area neat and resistant to dirt. These covers lie flat, and some of them have raised edges to protect the entire space. They also come with rubber bumper guards, which hold down like a little ramp. These allow dogs better grip when entering and exiting the boot.
So, which dog car seat cover will you choose?
As you can see, there are more dog car seat covers than you may think. Whether you want extra safety barriers, a snug seat fit, or something specific to a particular part of your car, there is an option to fit every need. Get your paws on yours now!