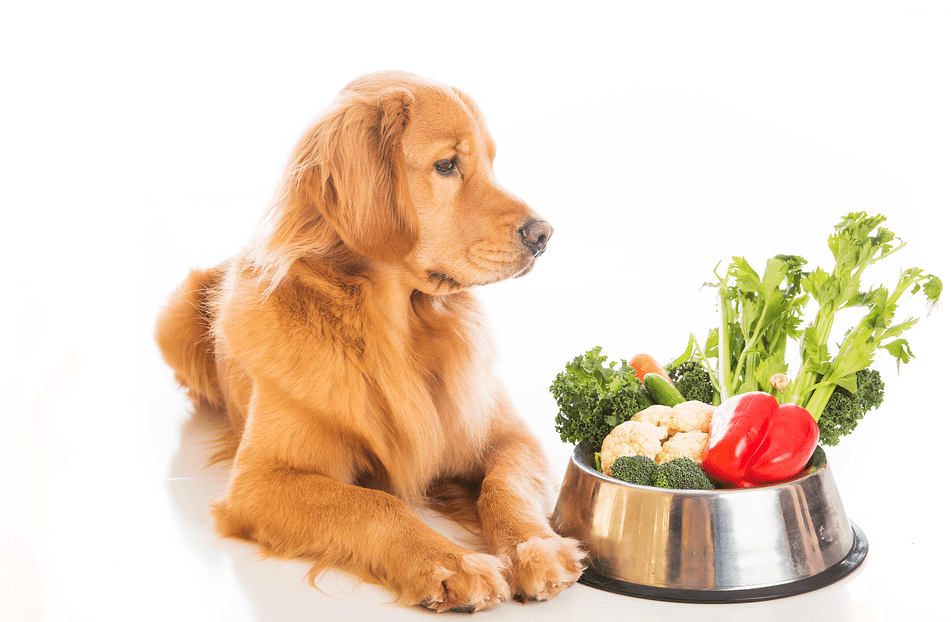 Petting your pup is one of the easiest ways to check your his or her health. The condition of the dog's coat can quickly show you how well-nourished your dog is or reveal signs of problems. As you and your dog are cuddling, pay a little attention to the fur and skin all over their body. With a healthy coat, the fur will be shiny, soft and smooth, even if your dog has naturally short or wiry hair. The skin beneath the fur will be supple and clear, not flaky, bumpy, or scabbed. Dry or greasy fur, or an unpleasant, funky smell are signs of an unhealthy coat.  
Poor nutrition is the most common cause of an unhealthy coat. You may provide enough food to satisfy your pet's hunger, but the best dog food for a healthy coat has more than just a sufficient amount of calories. To keep your dog looking and feeling their best, you want to feed them a diet that ensures their coat, and the rest of their body, has a well-balanced supply of essential nutrients. 
There are many choices available for feeding your pets these days and so much information about which to pick. Supermarkets and pet shops offer a variety of options, but many dog owners are opting to order from a premium source to give their dog the best food for a healthy coat. A good place to start is with a review of a top dog food subscription service. To help you begin, here are a few of the most important considerations as you decide which is right for your dog:
Made for dogs


Some dog owners believe that preparing homemade meals is best for their pets, because they want to be sure that their best friend eats truly good food. This is time-consuming and expensive for you. What's worse, preparing meals yourself can actually cause your dog to suffer from nutritional deficiencies. The best dog food for a healthy coat is made under the supervision of veterinarians and animal nutrition experts. 

Top-quality ingredients


Although making your pet's meals yourself isn't ideal, the best food for a healthy dog coat starts with meat and vegetables that are good enough for people to eat. Look for brands that list "human-grade" ingredients on their labels.

The Association of American Feed Control Officials (AAFCO)

is an organization representing the many government agencies that are responsible for the rules on commercial animal foods. Check product labels and brand Websites to be sure the dog food you are considering meets—or, even better, exceeds—the AAFCO standards. 

Packed with protein


Dogs' fur is mostly made up of protein, so they

need plenty of protein in their diet

to maintain a healthy coat. But not all protein is alike. The best dog food gets protein from beef, pork, chicken or turkey. Steer clear of pet food made with low-quality protein sources such as soybean or chicken meal.

Balanced nutrients


Dogs must have more than just high-protein meats in their diets to maintain a healthy coat. They also require a wide range of potent vitamins and minerals that come from nutritious vegetables such as broccoli and sweet potatoes. Choose dog food that includes vegetables and

vitamin supplements

that further boost its nutritional quality. 



5. Extra support
Omega-3 fatty acids are essential for replenishing every cell in dogs' bodies and it is critical to keeping their fur shiny and growing healthy. As you scan dog food labels, look for ingredients such as fish oil, a rich source of omega-3s.
Customized


The best dog food for keeping a Husky's coat healthy is not identical to the best dog food for a Golden Retriever's coat. Because each breed is different in size and shape, they have slight differences in their nutritional needs that can add up to a big impact on keeping a healthy coat. A dog's activity level and age also influence what goes into their ideal diets. Most important, a dog's underlying health conditions often show up in their coats. Dogs living with health challenges thrive best on food that is formulated for them. If you have a "special needs" dog, you can find a premium food that is formulated specifically for your pet. When you need help vetting new dog food brands, rely on a

trusted website for product reviews

.

Pup's choice


The best dog food for a healthy coat is the well-balanced meal they love to eat. If you can offer a variety of meat and vegetable combinations, you'll probably notice your dog has favorites. Dog food that can be crafted to your pet's tastes is sure to make meals a happy time for both of you.